Fireworks are synonymous with 4th of July celebrations. This month, we recognize our new member: Jake's Fireworks.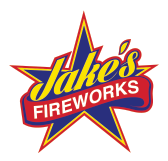 Tell us a little bit about Jake's Fireworks
Jake's Fireworks is the world's largest importer of fireworks in the world, family-owned and operated since the Marietta family started selling fireworks in their general store in the late 1930's. Our main brand of fireworks that we sell is World Class brand fireworks that is known for quality and innovation in consumer fireworks.
What safety tips can you offer to first-time/new fireworks users?
Couple of tips for Georgians that may be new to the bigger fireworks – never stand over a firework while lighting and ABC – always brace cakes. Multi-shot aerial fireworks are called cakes and it is a good idea to place on a hard surface and brace the sides with bricks or cinder blocks to ensure stability.
For more safety tips, please click here.
What fireworks will "wow" the family and friends?

We have a lot of customer favorites, but the first two that come to mind are:
1) Excalibur Artillery Shells. These are the number one selling artillery shell fireworks of all time. These patented maximum charge shells offer the loudest biggest breaks in consumer fireworks. Watch the video and see for yourself.
2) One Bad Mother. This is a 16-shot aerial firework that has been a top seller for a decade. The breaks are huge gold willows that cover the sky.
For a list of the customer-picked top 10 fireworks from last season, click here.
For a special time, Jake's Fireworks is graciously offering DeKalb Chamber members with a discount for their fireworks. Click here to take advantage of the discount.
Join Jake's Fireworks for their ribbon cutting on Wednesday, June 29 at 5170 Stone Mountain Highway, Stone Mountain, GA 30087. The ceremony begins at 10:30 a.m.
DeKalb Chamber of Commerce Hosts 21st Century Leaders
DECATUR, Ga., – June 28, 2016 – The DeKalb Chamber of Commerce hosted students from the 21st Century Leaders earlier this month and informed them about the Chamber's role with its community partners to advance economic and business interest in the county.
"When this Decatur nonprofit organization tapped us to host their young leaders, we jumped at the opportunity," said Katerina Taylor, President & CEO of DeKalb Chamber. "These students have a keen interest in economic development and government. We are proud to play a part in showing these young leaders how they can impact the future of their community."
The 21st Century Leaders program is a collaboration of business and professional leaders inspiring high school students to take on leadership positions, explore career opportunities, and give back to their communities by connecting them with a diverse group of enthusiastic peers, passionate professionals and powerful ideas, transforming their skills, attitudes, and abilities through training and hands-on experiences.
DeKalb Chamber led students on a tour at the DeKalb County CEO's office, where they met with Interim CEO Lee May and learned about the County's responsibilities in supporting the community; the DeKalb Solicitor-General's Office, where they toured the Solicitor-General's Office, met Donna Coleman-Stribling and learned about her vision as the incoming Solicitor-General; and Decide DeKalb Development Authority, where they learned about the agency's role in attracting new businesses to DeKalb.
Over lunch, the 21st Century Leaders also met with key leaders and emerging young professionals, including representatives from Georgia Power, Atlanta Gas Light, City of Decatur and the District Attorney's Office.
To download photos from the tour, click here. For more information on DeKalb Chamber, please visit www.dekalbchamber.org.
ABOUT DEKALB CHAMBER OF COMMERCE
The DeKalb Chamber of Commerce is a membership-based organization with the mission to support, promote and sustain business development in DeKalb County. With 78 years of service in the community, DeKalb Chamber focuses on four critical areas including education, workforce and economic development, public policy, and business member services. We are the primary resource for businesses in DeKalb County. For more information on DeKalb Chamber, please visit their website at www.dekalbchamber.org or call 404-378-8000.

###
The DeKalb Chamber of Commerce Cleared of False Claim
DECATUR, Ga., – June 22, 2016 – "The DeKalb Chamber of Commerce has been cleared by the Georgia Government Transparency and Campaign Finance Commission of any alleged role or involvement in unreported political spending. The accusation by the Georgia Ethics Watchdog was unfounded and the case was dismissed.
DeKalb Chamber cooperated with the Campaign Finance Commission's investigation into records from a closed fiscal agent account.
In 2014 DeKalb Chamber made the decision to end its role as a fiscal agency and no longer acts as a fiscal agency, as it does not align with the organization's mission to attract, promote and sustain business and economic development in DeKalb County. The account has since been closed and will remain closed.
DeKalb Chamber will move beyond this claim and continue to progress the business community."
ABOUT DEKALB CHAMBER OF COMMERCE
The DeKalb Chamber of Commerce is a membership-based organization with the mission to support, promote and sustain business development in DeKalb County. With 78 years of service in the community, DeKalb Chamber focuses on four critical areas including education, workforce and economic development, public policy, and business member services. We are the primary resource for businesses in DeKalb County. For more information on DeKalb Chamber, please visit their website at www.dekalbchamber.org or call 404-378-8000.

###