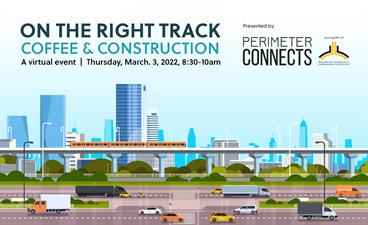 Coffee & Construction with the Perimeter CIDs: Q1 2022 edition
Join the Perimeter CIDs for the first Coffee & Construction of 2022, where guests will get you up to speed on key transportation improvements in Central Perimeter (and beyond).
How much construction impact should you expect this spring? What exciting changes are in the pipeline this year? Tune in to find out!
This free virtual event will include:
Remarks from Ann Hanlon, Executive Director, Perimeter Community Improvement Districts (PCIDs).
Updates on the Transform 285/400 interchange project from GDOT's Senior Project Manager, Marlo Clowers.
An update on local and regional transit improvements from Greg Giuffrida, Director of External Affairs at MARTA.
Local project updates from John Gurbal, Project Director, PCIDs.
A data-driven look at where Perimeter may be headed from Johann Weber, Program Manager, Perimeter Connects.
This quarterly series is hosted by the Perimeter Community Improvement Districts (PCIDs) in partnership with Perimeter Connects.