President Trump has unveiled Guidelines for Opening Up America Again, a three-phased approach based on the advice of public health experts.
These steps will help state and local officials when reopening their economies, getting people back to work, and continuing to protect American lives.
---
Proposed Phased Approach
BASED ON UP-TO-DATE DATA AND READINESS
MITIGATES RISK OF RESURGENCE
PROTECTS THE MOST VULNERABLE
IMPLEMENTABLE ON STATEWIDE OR COUNTY-BY-COUNTY BASIS AT GOVERNORS' DISCRETION
---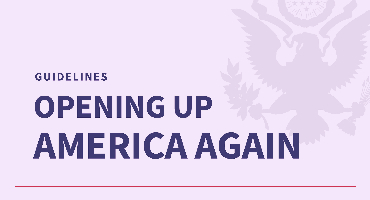 ---
State and local officials may need to tailor the application of these (proposed) criteria to local circumstances
(e.g., metropolitan areas that have suffered severe COVID outbreaks, rural and suburban areas where outbreaks
have not occurred or have been mild). Additionally, where appropriate, Governors should work on a regional
basis to satisfy these criteria and to progress through the phases outlined below.
GIVING YOU ACCESS TO PEOPLE, INFORMATION, AND OPPORTUNITIES