Welcome Members and Visitors,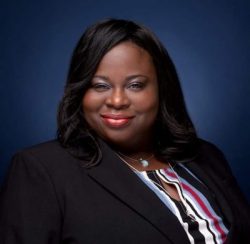 Thank you for your membership and commitment to the women in our community. On behalf of the DeKalb Chamber of Commerce, I am humbled and honored to be the Chair of the Women Executive Leadership of DeKalb.  
Growing up in Guyana, South America, I watched my mom live an aggressively enterprising life as a teacher, women activist and Union President. My admiration of her strength and versatility ignited the passion for women empowerment and entrepreneurship.
Before establishing Makeda Woman, I explored entrepreneurship with several small businesses. This experience has afforded me opportunities to understand the challenges and gratification of women entrepreneurship. 
According to Alex Camardelle, Women Mean Business, 2019, "Entrepreneurship clears a path to wealth through business ownership".
Small business ownership, when done well, is wealth-building beyond the individual. It is also wealth-building for the community.
Today, Georgia ranks second in the nation for the growth of women-owned businesses. I believe that such growth empowers women living in the fourth largest county in Georgia to explore their fullest potential as individual wealth and community builders.
We all can benefit from this next step in evolution, enriching and growing our women business community. By being an active member of WELD, you play a very important and rewarding part in supporting our Chamber and the women business community.    
Besides being business owners, as women, we possess gifts and talents that can empower each other as well as the young middle and high school entrepreneur. By coming together through networking, story sharing, and community–building, we can help lead and grow the women of DeKalb. 
With so many challenges, you may be asking yourself, "what can I do to help?" It just so happens that there are very simple things that you can do as we rebrand Women Executive Leaders of DeKalb:
Invite a business owner, a manager or a salesperson to a Chamber event.
Meet and speak to someone you don't know at every event you attend.
Meet with other members one-to-one at least weekly. This does not have to be a formal business meeting. Make it fun. Play golf, go bowling, meet for lunch or happy hour. Engaging in other activities besides work builds value in business and business relationships.
Get involved and encourage others to get involved. Joining committees and volunteering at events is the easiest way to promote your business or your cause without even trying.
Share our Chamber events on social media. This costs nothing and takes less than one minute. Imagine what would happen if we do this for WELD and each other. Just do it.
We are part of a great community. We are part of a great Chamber of Commerce. It is going to be an awesome year as we each play a role in growing and improving WELD, the Chamber and our community.
Thanks in advance for joining me in meeting our challenges as we embark on making WELD and the Chamber a hub of resources and empowerment for businesswomen living, working and thriving in DeKalb.
All the best,
Nicole Vonetta.
GIVING YOU ACCESS TO PEOPLE, INFORMATION, AND OPPORTUNITIES