March is Women's History Month. The DeKalb Chamber of Commerce will be recognizing women in DeKalb who have made a significant contribution in their respective industries and in our community. This week we are highlighting twoThis week we are highlighting two women in communications who are making a difference in their community: Elaine Armstrong and Brenda Reid.Please join us all month long as we celebrate the Women who help move DeKalb Forward.
---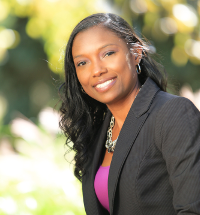 Elaine Armstrong

Vice President of Marketing

Goodwill of North Georgia
We are thankful to have Elaine Armstrong join our Board of Directors this year. Please help us welcome Elaine to the DeKalb Chamber community and get to know her.
What is your favorite place in DeKalb County?

Tough question, there are so many. I love the DeKalb Farmer's Market, and downtown Decatur has awesome restaurants. However, I spend the most time in my office at Goodwill of North Georgia. But if I had to choose just one, I'd probably say my church – Salem Bible Church.
What is your life motto/favorite quote?

I can do all things through Christ who strengthens me. – Philippians 4:13. It was my late grandmother's favorite bible verse, and I cannot recite without feeling empowered.
What's notable about your role/contribution to your company?

For 11 years I've had the opportunity to work for and represent an organization whose mission I believe in. Every year we serve tens of thousands of job seekers. I am honored to say that the work I do contributes to their ability to find employment to support themselves and their families. I'm also proud to say that I have the best team ever. They're some of the best marketing and communications professionals in the business (and it just so happens that they're all women. Happy Women's History Month!)
---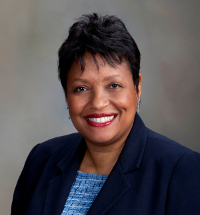 Brenda Reid

Media and Community Relations Manager

Publix Super Markets
We are honored to have Brenda Reid serve on our Board of Directors and for allowing us to feature her. She serves as Co-Chair of the Chamber's Education Committee. She has played an integral role in strengthening our relationship with WorkSource DeKalb and the DeKalb County School District.
On March 8, she will be honored by the Atlanta Tribune as a 2017 Super Woman. Read more about her recognition here.
What is your favorite place in DeKalb County?

I live in Lithonia and I love walking around Stone Mountain Park. The lake, flowers, trees, that big ole rock and an occasional deer running by makes for a very relaxing stroll. My dad still tells the story that "I remember when Stone Mountain was just a little rock." I chuckle about that every now and then as I take in the views around that grand ole park.
What is your life motto/favorite quote?

Today I'm a big fan of the old motto "Live and Let Live." It's so easy to get wrapped up in your work and end up focusing on controlling everything around you. When you are in control of everything you don't enjoy life as much because you're' too busy. I've just gotten to a point where I don't need to be in control of everything. I appreciate that each of us have our own journey and we need to experience it at our own pace. If I can help…great! If I can't, that's okay too.
What's notable about your role/contribution to your company?

I'm very proud of the work that I do with Publix. I help create partnerships that can help change lives. Two examples come to mind: Hosea Helps and The Georgia Tennis Foundation.
Hosea Helps, formerly Hosea Feed the Hungry, spent a lot of their resources preparing for holiday feeding programs for those in need. After all their goal was to bring awareness that people are in need and we all need to help. Publix has been supporting Hosea Helps for 15 years now and thanks to this relationship thousands of people are getting help year round, not just once or twice a year. Publix was right there with Elizabeth and Ofemo Omilami when they had the vision to make Hosea Helps a year round support organization. Publix and Publix Charities has helped by consistently donating to this organization. As a result Hosea Helps provide food, clothing, shelter and counseling all year long. Publix has consistently believed in helping strengthen the communities we serve. And, our support for Hosea Helps has helped more people than we will ever know. Donating one time can put a Band-Aid on something. But consistency and persistence can change the world.
The second organization that comes to mind is The Georgia Tennis Foundation. Nell Long was new in her role as development director for GTF. We met in my office one day more than 10 years ago and I was impressed with her passion about making tennis available for young kids. That day we created a concept for what became the GTF Georgia Youth Tennis Program presented by Publix Super Market Charities. We partnered with the YMCA and USTA to expand the reach of the program when we changed the name to YMCA Youth Tennis Georgia. Our funding helps provide tennis pro's, racquets and balls at YMCA's throughout Georgia. Ten plus years forward the program has provided tennis lessons through summer camps for more than 100,000 young people in the inner cities throughout Georgia. I'm certain that one day I will meet a young athlete on the tennis circuit who says he or she became interested in tennis through this tennis program.
At Publix we always say "Thanks Mr. George" when something good happens through Publix. George Jenkins founded Publix 87 years ago. Even though he is no longer with us we still thank him today.
For more information on Brenda Reid, please read her bio here.
GIVING YOU ACCESS TO PEOPLE, INFORMATION, AND OPPORTUNITIES