Message From The Chair
"Creating a Stronger Economic Environment for DeKalb County"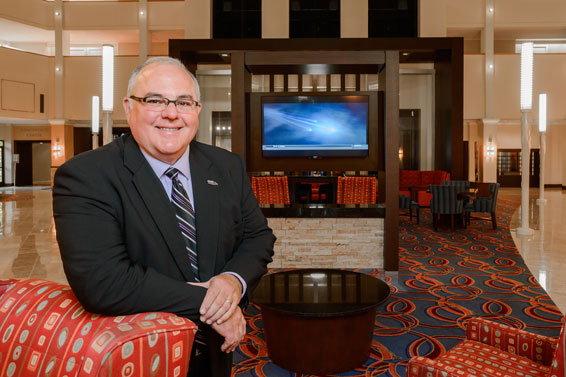 Hello DeKalb!
It is with great pleasure to serve as the 2020 DeKalb Chamber of Commerce Board Chair. It's been an honor to serve as a member of the Board for the past nine years. That experience combined with being a member of the Executive Committee for the past two years has collectively given me the perspective to help fulfill the Chamber's mission to be "the catalyst that attracts, supports, and advances business interests in DeKalb County, Georgia.".
Serving as the Chamber's Board Chair, I'll help advance the four pillars of service to the county which include: education and workforce development; economic development; public advocacy and member services.
As part of the education and workforce development pillar, the DeKalb Chamber is committed to working with educators to improve the talent pool of future labor for DeKalb County employers. Additionally, we're focused on young professional leadership development through networking and educational programs, so they're prepared to lead DeKalb in this new decade.
Economic development opportunities abound in DeKalb County and the Chamber is dedicated to partnering with Decide DeKalb to bring together the community and its leaders so that our local economy is strengthened with job creation and investment.
DeKalb County is a great place for business and the Chamber is committed to advocating for pro-business legislation on your behalf. Whether it's the Capitol in Atlanta or the Capitol in DC, our legislative priorities are key to creating and sustaining job growth in DeKalb.
The DeKalb Chamber is committed to helping small businesses thrive by hosting many events throughout the year that offer networking, training, and assistance. We'll help you become more involved with the Chamber and the community so you can grow professionally, expand your network and market your business.
I'm honored to serve as the Board Chair during this 82nd year of the DeKalb Chamber and look forward to partnering with you to help support your business through advocacy, strengthening the economy, developing leadership talent through education and helping to connect our members with government and community leaders. Together we can strengthen and champion DeKalb's economic prosperity and quality of life.
Sincerely,
James Tsismanakis, MGHM, CHIA, CDME, TMP

2020 Chairman of the Board
DeKalb Chamber of Commerce
and

Executive Director/CEO

Discover DeKalb/Sports DeKalb
---
---
TESTIMONIALS
What are Members saying about us?
I highly recommend reaching out the Dekalb Chamber we have an amazing business community, and a strong network.

Misha Ford // Principal Consultant, 3T Consulting Group

Business-minded organization while remaining committed to our community!

Marian Adeimy Avise // Dunwoody, Georgia