Workforce & Training
WorkSource DeKalb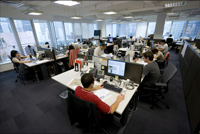 Workforce development is an important aspect of every community. A talented, educated workforce leads to greater economic opportunities and growth. The Chamber works closely with the DeKalb County Workforce Development Department to provide job seekers and employers with the resources they need to remain competitive. The Chamber also works closely with its local school systems to make sure that business is integrally linked to education. Not to mention, the Chamber collaborates with other public entities such as DeKalb Technical College and the Georgia Department of Labor to name a few.
Please visit the DeKalb Workforce Development's website for more information about workforce development in DeKalb County.
GA WORK READY
A qualified and prepared workforce is paramount to local economic development efforts. Georgia's Work Ready program will be a tool available to local communities in Georgia to help validate they have the workforce ready to fill the hiring needs for both existing and new industries. From Employers to Job Seekers to Community Leaders – everyone can benefit from Georgia Work Ready!
The DeKalb Chamber of Commerce works closely with the DeKalb County Workforce Development Department and DeKalb Technical College to ensure that job applicants have the skills to succeed in a highly competitive work environment. Also involved is the Governor's Office of Workforce Development, the department advising and implementing entity for the Governor that also serves as staff to the State Workforce Investment Board. Their role is one that promotes the Governor's visions of linking education and workforce development and aligning that linked effort with the economic development of the State, its regions and communities. The Governor's workforce development vision links education and workforce development and aligns them with economic development at the State, regional and community levels.
More information can be found at http://www.gaworkready.org
CAREER TRAINING IN DEKALB HIGH SCHOOLS
Website:Career Training in DeKalb High Schools
DeKalb County's technical career programs are among the best county programs around metro Atlanta. Business partnerships with leading national companies such as AT&T & the W Hotels offer additional support to ensure one of the region's most highly trained and enthusiastic workforce.
CAREER ACADEMICS
DeKalb schools offer dual diploma programs, allowing students to choose courses in technology and college prep in the high schools. Students can access technology programs on campus and can change their graduate direction at any time.
DeKalb High Schools of Technology, North and South Campus offer students programs a range of in technical programs, including technologies that must be housed in central campuses.
QUICK START
Georgia's Free, Customized Employee Training
Qualified Georgia businesses can take advantage of the state's free, customized training. Georgia's Quick Start program is nationally recognized for providing high-quality training services at no cost to new or expanding businesses in Georgia. Since 1967, Quick Start has provided customized training for over 325,000 employees for more than 3,100 businesses and industries throughout the state. It has been singled out by Fortune, as well as Training, and Site Selection magazines for its effectiveness in providing the most comprehensive and advanced training in the nation.
USEFUL RESOURCES
GIVING YOU ACCESS TO PEOPLE, INFORMATION, AND OPPORTUNITIES