Small Business Resources
Your DeKalb Business Resource Center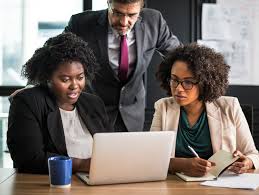 The DeKalb Chamber of Commerce values its burgeoning small business sector. Whether it be fostering seminars and workshops or collaborating with other business development agencies, the DeKalb Chamber of Commerce has the contacts and connections to help small business grow, develop, and succeed.
Only a few locations can guarantee the right combination of resources that are crucial to your business's success. Only a few places have an environment that is conducive for business and has a public electorate that values commerce and industry. In DeKalb, there is the right combination of investment incentives to attract new businesses; access support services and capital to help businesses grow, and information on procurement opportunities to enable businesses to sustain their growth.
For decades, the DeKalb Chamber of Commerce working in conjunction with the Decide DeKalb Development Authority has been working to produce a unique combination of resources that has encouraged businesses to locate and find prosperity. The DeKalb Chamber is committed to promoting economic development, expanding business opportunities, and providing assistance to businesses interested in locating their principal office or base of operations in DeKalb County.
Explore DeKalb County and all there is to offer and you like so many others will see why it is the place Where the World Lives and Where Does Business.
Starting Your Business
Business Registration
Tax Requirements
DeKalb County Overview
Funding Your Business
Access to Capital for Entrepreneurs (ACE) – 
Access to Capital for Entrepreneurs (ACE) is a nonprofit organization that provides loans to start and grow businesses in Georgia. ACE offers its borrowers business development resources to create sustainable businesses. ACE is certified by the U.S. Department of Treasury as a Community Development Financial Institution (CDFI).
Small Business Resource
Score Atlanta – 
SCORE Atlanta is a nonprofit resource partner of the Small Business Administration. SCORE provides local and online workshops and events to connect small business owners with people and information they need to start, grow and maintain their business.
University of Georgia Small Business Development Center – 
The Small Business Development Center (SBDC) provides tools, training, and resources to help small businesses grow and succeed. Designated as one of Georgia's top providers of small business assistance, the SBDC has 17 offices ranging from Rome to Valdosta to serve the needs of Georgia's business community. The Small Business Development Center, a Public Service and Outreach Extension of The University of Georgia, is funded in part by the U.S. Small Business Administration (SBA). The University of Georgia Small Business Development Center is nationally accredited by the Association of SBDCs.
ACE Women's Business Center – 
The ACE Women's Business Center provides a full range of services for women at all stages of business planning, implementation, and growth. Long-term classes, workshops, seminars, and one-on-one counseling are offered in English and Spanish.
Additional Partners
Decide DeKalb Development Authority
Discover DeKalb Convention & Visitors Bureau
Georgia Department of Economic Development
U.S. Small Business Administration – Georgia District Office – 
Additional Resource
Secretary of State – First Stop Business Information Center
Georgia Employment Laws & Rules
Local Media
The Atlanta Journal-Constitution
GIVING YOU ACCESS TO PEOPLE, INFORMATION, AND OPPORTUNITIES